Thanks to the new A2-class licensing system, Yamaha has come up with the perfect R-series pedigree for new riders.
The new YZF-R3 supersport model ensures that Yamaha sets the standard on the international racing scale. The R3 is a lightweight bike for everyday use and comes with ABS as standard. Filling the gap between the R125 and R6, the R3 is an ideal step-up model for newer and graduating riders.
The machine's all-new 321cc inline twin cylinder engine uses advanced technology from Yamaha's larger capacity supersport bikes, without losing the ability to ride well at lower speeds. The bike is responsive and retains a predictable handling character, thanks to its evenly-balanced weight and longer swingarm.
For the environmentally-conscious among us, the YZF-R3 benefits from the latest combustion analysis technology to promise good fuel economy. Its lightweight DiaSil cylinder minimises oil consumption and gives superb heat dissipation while simultaneously reducing horsepower losses.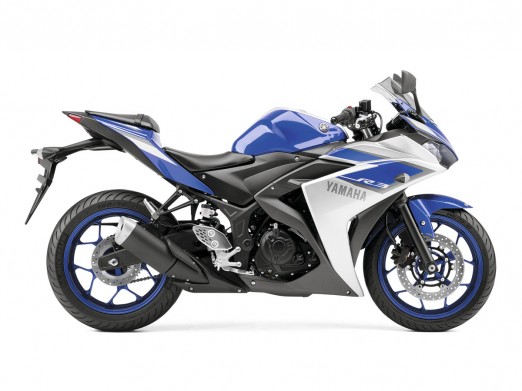 Substance is accompanied by cutting-edge style, of course. This bike boasts aggressive twin headlight fairing to match its supersport sibling, the YZF-R6, and its aerodynamic design gives the illusion of a forceful mass-forward silhouette. The R series welcomes a new Race Blu colour scheme, inspired by the Yamaha YZR-M1 MotoGP-winning machines.
At just 169kg net weight, the R3's lightweight chassis is the ideal choice for newer riders looking for a genuine, purpose-built R-series model that doesn't let up on practical performance. Tailored to urban and highway situations, this bike is the everyday solution for the less experienced. It reaches the UK in April 2015.
Meanwhile, the YZF-R1 is due a radical update. Yamaha promises that "everything has changed except the name". More news on this exciting development next month!
Check out the full range of Fowlers Yamaha bikes.